Hotel with Thermal Program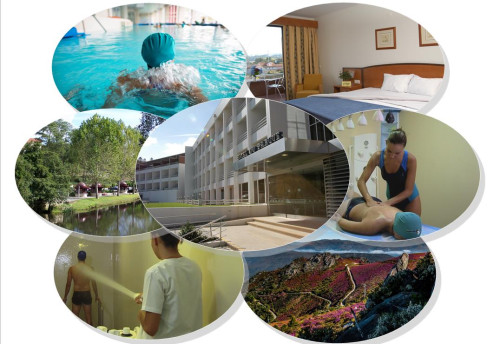 6 Days / 5 Nights
Includes: Hotel + Thermal Program
Hotel:
Accommodation
Full Board
1/2 Day Tour
Thermal Program:
Medical Inscription
Medical Appointment
Thermal Program*
Middle Season ** High Season***

*Slight Legs Program
Price Per Person in Double Room: 547.00 € 585.00 €
Individual Supplement: 80.00 € 90.00 €
*Anti-Stress Program
Price Per Person in Double Room: 557.00 € 595.00 €
Individual Supplement: 80.00 € 90.00 €
*Slight Back Program
Price Per Person in Double Room: 498.00 € 540.00 €
Individual Supplement: 80.00 € 90.00 €

Notes:
**Middle Season - MAR,APR,NOV ***High Season - MAI to OCT
Meal(soup, plate, dessert).
Drinks not included.
VAT included at the current rate.
For more information about the Thermal Programs please contact 232723461.
Program subject to change based on prior medical evaluation.
Programa válido até 31 de Janeiro de 2018.